The post-pandemic era comes with a new reality – the hybrid work model is here to stay. We see businesses reopening their doors with some employees wanting to come back to the office, some wanting to remain remote and some doing both – coming in some days, and working at home other days. Recent ESG research reports that nearly three-quarters of organizations expect to support at least 25 remote or branch office locations in the next 24 months. Meanwhile, similar research shows 62% of employees prefer a hybrid model or choose to work entirely remote from their homes. As a result, a new approach to how we think about connecting and securing employees is necessary. This is why businesses are adopting a secure access service edge (SASE) that converges security, Zero Trust Network Access (ZTNA), and networking to enable the hybrid workforce.
With all of this in mind, I'm excited to share that we are announcing new innovations for Prisma SASE, which includes the general availability of Prisma SD-WAN bandwidth licensing on-demand, and Okyo Garde Enterprise Edition.
The Industry's Most Flexible SD-WAN with Bandwidth Licensing On-Demand
As businesses are reopening their branch offices, the number of employees returning and the bandwidth needed are still unknown and inconsistent. Current SD-WAN solutions offer an inflexible bandwidth model for branch offices purchased on a per-site basis. As a result, network administrators are challenged with operational complexity that often leads to over provisioning when allocating bandwidth, which adds more costs. Additionally, existing solutions are complex and not designed for ease or flexible consumption, using multiple disparate SD-WAN and security products or forcing organizations to stitch together numerous vendors and products.
Palo Alto Networks Prisma SD-WAN is the industry's only next-generation SD-WAN that is autonomous, integrated, and secure. Unlike legacy SD-WAN solutions that introduce security gaps and complexity, Prisma SD-WAN automates and simplifies tedious network operations using AIOps and ML methodologies, providing best-in-class security and networking capabilities for the branch.
As part of its continued next-generation innovations, Prisma SD-WAN is now revolutionizing how organizations can consume SD-WAN by becoming the industry's most flexible SD-WAN by offering an SD-WAN licensing with bandwidth-on-demand. This game-changing, flexible, subscription-based model for Prisma SD-WAN enables customers to reduce WAN costs by up to 45%, allowing them to purchase SD-WAN subscriptions as an aggregated pool that can be flexibly distributed to each site. In addition, customers can now easily activate Prisma SD-WAN as a simple add-on module to Prisma Access, expediting their journey to SASE. Existing consumption models, such as a-la-carte Prisma SD-WAN and Prisma SASE bundles, are still supported to ensure ultimate flexibility for organizations.
"Palo Alto Networks Prisma SD-WAN continues to innovate, and now delivers an industry-first SD-WAN consumption model with bandwidth on-demand," said Bob Laliberte, ESG Principal Analyst at ESG Research. "This will enable organizations to optimize resources on a site-by-site basis and provide the flexibility to allocate, expand or contract a pooled bandwidth for your SD-WAN subscription to ensure agility and minimize costs."
Okyo Garde Enterprise Edition: Protecting the Home Protects Your Enterprise
With work from home established as the new normal, employees' home networks can be a critical weak link in enterprise security. The mix of personal and work devices on easy-to-attack home networks make attacks and lateral movement a real threat to the enterprise. Some employees also use devices (printers, VoIP phones and hardware prototypes) beyond laptops for work, which can be challenging to secure. A blended home network with all traffic funneled through consumer-grade routers creates a new generation of cybersecurity challenges for network security and SOC teams.
In the post-pandemic world, every organization needs to elevate the importance of home network security as a key tenet of enterprise security. Palo Alto Networks is proud to announce the general availability of our next-level enterprise security solution for the home – Okyo Garde Enterprise Edition.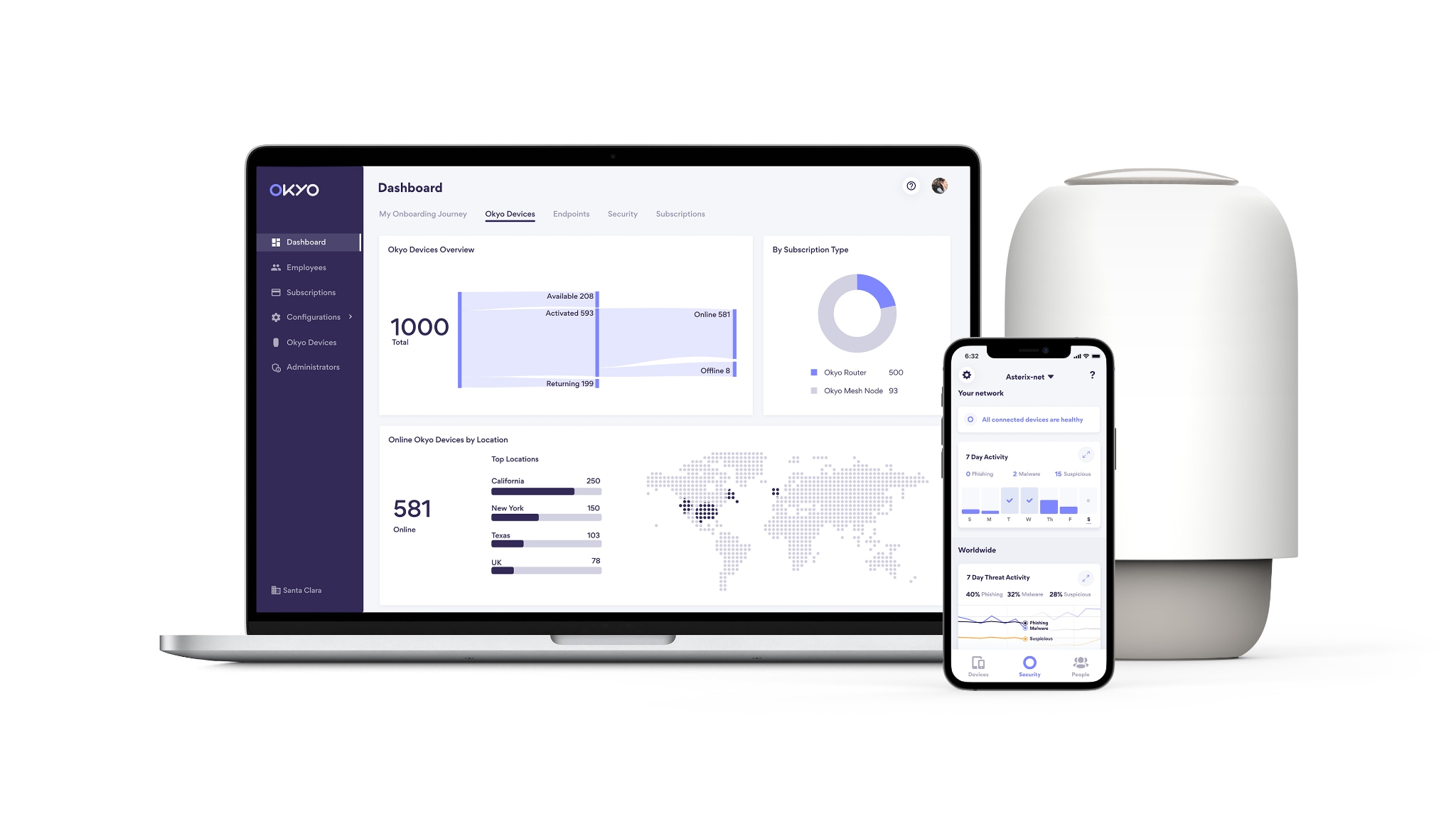 On top of our pervasive and always-on ZTNA solution for the remote workforce with Prisma Access, Okyo Garde extends secure access service edge (SASE) to the employees' entire home network. It brings the enterprise SSID into the home and prevents lateral attacks by segmenting the corporate network from the personal network, all without compromising user experience and performance. The optional personal network is completely private and will protect personal devices from the most common cyberattacks. Together, Okyo Garde with Prisma Access perfectly blends best-in-class security with a beautifully designed WiFi 6 mesh router for the most advanced home network security.
Learn More in the Upcoming Palo Alto Networks Prisma SASE Event
On May 11, 2022, I'll be joined by industry experts, customers and my product team in an event that will showcase these recent innovations that will enable hybrid work in the post-pandemic world. Here, we will dive deep into these groundbreaking new SASE capabilities and discuss some of the best practices for leveraging SASE to enable your hybrid workforce. Join us at the Palo Alto Networks Prisma SASE event. I hope to see you there virtually.